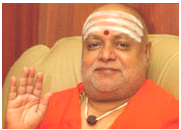 His Divine soul Padmabhushan Sri Sri Sri
Dr.Balagangadharanatha Maha Swamiji
Founder President, Sri Adichunchanagiri Shikshana Trust
Sri Adichunchanagiri Mahasamsthana Math is situated on a rocky hill at an altitude of about 3,300 ft. above M.s.l. 110 kms west of Bangalore, the capital of Karnataka, India and 6 kms from Bangalore-Mangalore National Highway 48. The approach to the hill is from the west and the pilgrim who looks up the hill while visiting, it finds the hill itself to be in the form of Athmalingam found in the Gokarna Kshetra. At the time of moon-rise the hill appears like the moon crested Shiva, i.e, Chandramouleswara. This abode of green woods and small lakes enlivened by wild peacocks and birds has been attracting sages and rishis since ancient times.
Following the 'Guru-Shishya' Parampara, his holiness Byravaikya Jagadguru Sri Sri Sri Dr. Balagangadharanatha Maha Swamiji, 71st in the holy lineage, who ascended the revered seat in 1974. The benevolent activities of social service gained an accelerated momentum since then.
Sri Adichunchanagiri Shikshana Trust (R.) was founded in the year 1974 under the divine leadership of His Holiness Byravaikya Sri Sri Sri Dr. Balagangadharanatha Maha Swamiji.
With the divine blessings of His Holy soul the vision and wishes of 71st Guruji's is fulfilling by the 72nd pontiff of the math Jagaduguru Sri Sri Sri Nirmalanandanatha Maha Swamiji, President, Sri Adichunchanagiri Shikshana Trust(R.). The trust is managing More than 480 Educational Institutions with strength of 95000 students, inclusive of 2 Medical Colleges, an Ayurvedic Medical College, 4 Engineering Colleges, 2 Nursing Colleges, 2 Pharmacy Colleges, 4 International Schools, 7 Central Schools, 2 Schools for Blind, 5 Polytechnics and Host of Schools and Pre-University Colleges are run by the Trust. Most of them are situated in the rural parts of Karnataka to provide abundant opportunities to the rural masses of our country.
International Foundations:
Sri Adichunchanagiri Mahasamsthana, at present has two foundations abroad i.e., one at Flint, Michigan, USA and another in Berlin, Germany.